Introduction: The Importance of Legal Search Engines
In the digital age, the quest for legal aid has been revolutionized, shifting from word-of-mouth referrals to an online search on lawyers search engine. A simple keystroke can now connect potential clients with a plethora of legal professionals, breaking geographical boundaries and offering a wider spectrum of specialty areas. But with an overwhelming number of search results, how can one find the right legal help? This is where the importance of legal search engines comes into play.
Legal search engines like Avvo, Lawyers.com, Martindale-Hubbell, and Google, to name a few, not only cater to those seeking legal representation but also provide a platform for law firms and attorneys to boost their online presence and reach a wider audience. According to a study commissioned by LexisNexis, almost half of those deciding on legal representation were unlikely to hire an attorney who wasn't listed on Martindale-Hubbell. This underlines the fact that being listed on reputable legal search engines is no longer a luxury but a necessity for legal professionals.
However, the journey doesn't stop at just being listed. Law firms and attorneys must strive to improve their visibility in these search engines, utilizing effective Search Engine Optimization (SEO) strategies to rank higher in search results.
This guide, 'Revolutionizing Legal Aid: The Lawyers Search Engine Guide', aims to provide an in-depth understanding of the top legal search engines, how to effectively use them, and the role of legal marketing in enhancing a law firm's online presence, drawing insights from an industry leader, ENX2 Legal Marketing. Whether you are a law firm owner struggling with low website rankings and ineffective marketing strategies or an individual looking for the right legal representation, this guide is your comprehensive resource to navigate the world of legal search engines.
Understanding Legal Search Engines: What They Are and How They Work
Navigating the world of legal search engines can feel like decoding a complex algorithm. But in reality, understanding these platforms is less about cracking a code and more about knowing how they function and what they offer.
Legal search engines, in essence, are specialized platforms designed to connect individuals seeking legal representation with legal professionals across various areas of expertise. They operate much like Google or Bing, but their focus is solely on the legal sector. This makes them an invaluable resource for anyone in need of legal assistance.
Legal search engines like Avvo, Lawyers.com, and Martindale-Hubbell are equipped with vast directories of attorneys and their respective areas of practice. They provide users with access to lawyers' profiles, often including detailed information such as their education, experience, areas of specialization, and client reviews. Some even offer direct messaging capabilities, allowing users to contact lawyers directly from the site.
But these platforms don't just serve individuals seeking legal help. They also provide valuable services for legal professionals. For instance, Attorney Search Network, a lawyer referral service certified by the American Bar Association and the State Bar of California, offers resources and services for its member lawyers.
One crucial thing to remember when using these search engines is that they operate based on keywords. When users enter a term related to their legal issue, the search engine sifts through its extensive database of attorneys and legal information to find the most relevant results. This is where the role of Search Engine Optimization (SEO) comes into play. SEO is a digital marketing strategy used by law firms to improve their visibility on search engines. By optimizing their profiles with relevant keywords, they increase their chances of appearing in search results when individuals look for legal aid.
Legal search engines also make their profits through various means. Some earn revenue through advertising, while others charge lawyers for premium listings or services that boost their visibility on the platform. This model allows the search engines to provide their services to users for free, making legal aid more accessible to the public.
In essence, legal search engines act as a bridge between those who offer legal services and those who need them. They simplify the process of finding the right legal representation, making the journey less daunting for individuals in need of legal help. These platforms also provide law firms with an opportunity to showcase their expertise, connect with potential clients, and ultimately grow their practice.
In the next section, we'll dive deeper into the top legal search engines and what each one offers. So stay tuned and discover the best platform for your legal needs!
Top Legal Search Engines: A Comprehensive Review
In the vast digital landscape, finding the right legal search engine can be an intimidating task. However, understanding the features and benefits of each platform can significantly streamline your lawyer search process. Let's delve into a comprehensive review of the top legal search engines that are revolutionizing legal aid.
Avvo: Connecting Clients and Lawyers
Avvo stands tall as one of the leading legal search engines, providing users with a comprehensive overview of an attorney's resume and direct messaging capabilities. Avvo's vast lawyer directory helps you find the best legal representation tailored to your needs, making it a premier choice for individuals seeking legal aid.
Lawyers.com: A Comprehensive Directory of Legal Professionals
Lawyers.com is another valuable resource for those in need of legal services. It offers an extensive lawyer directory, allowing users to browse through thousands of profiles to find the perfect match. Its straightforward and user-friendly interface makes the search for legal professionals a breeze.
FindLaw: Your Guide to Legal Information
FindLaw acts as a guide to legal information, providing a wealth of resources to help users navigate through complex legal matters. Apart from its exhaustive directory of lawyers, FindLaw also offers a comprehensive collection of free legal articles, court case summaries, and legal news, making it an all-in-one platform for legal information.
LegalMatch: Finding the Right Lawyer for Your Needs
LegalMatch operates as a lawyer referral service, helping users find the right lawyer that matches their specific legal needs. It's a trusted platform, certified by the American Bar Association and the State Bar of California, known for providing valuable legal services to the public and its members.
Martindale-Hubbell: A Prestigious Legal Network
Martindale-Hubbell, a prestigious legal network, is renowned for its AV rating, signifying the highest level of professional excellence and integrity in the legal industry. Its extensive lawyer directory and peer reviews make it a reliable platform for finding top-rated attorneys and law firms.
NOLO: Simplifying Legal Matters
NOLO aims at simplifying legal matters for everyone. It offers an extensive range of free legal articles and resources, along with a comprehensive lawyer directory. NOLO's mission is to help you navigate the legal world with ease, making it a go-to platform for legal aid.
Google: A Universal Search Engine for Legal Needs
Google, the universal search engine, also plays a significant role in the legal search arena. By using the right keywords and search strategies, users can find a plethora of legal services, lawyer profiles, and legal resources, making it a useful tool for legal research.
Better Business Bureau (BBB): Ensuring Trust and Integrity in Legal Services
The Better Business Bureau (BBB) is a well-known platform that ensures trust and integrity in legal services. While not a traditional legal search engine, the BBB offers a platform where users can check a law firm's credibility and review ratings, ensuring you choose a legal service you can trust.
Each of these legal search engines offers unique features and benefits. The key is to understand your legal needs and choose a platform that best suits your requirements. Once you've found the right legal aid, the next step is to effectively use these platforms, which we'll cover in the following section. Stay tuned!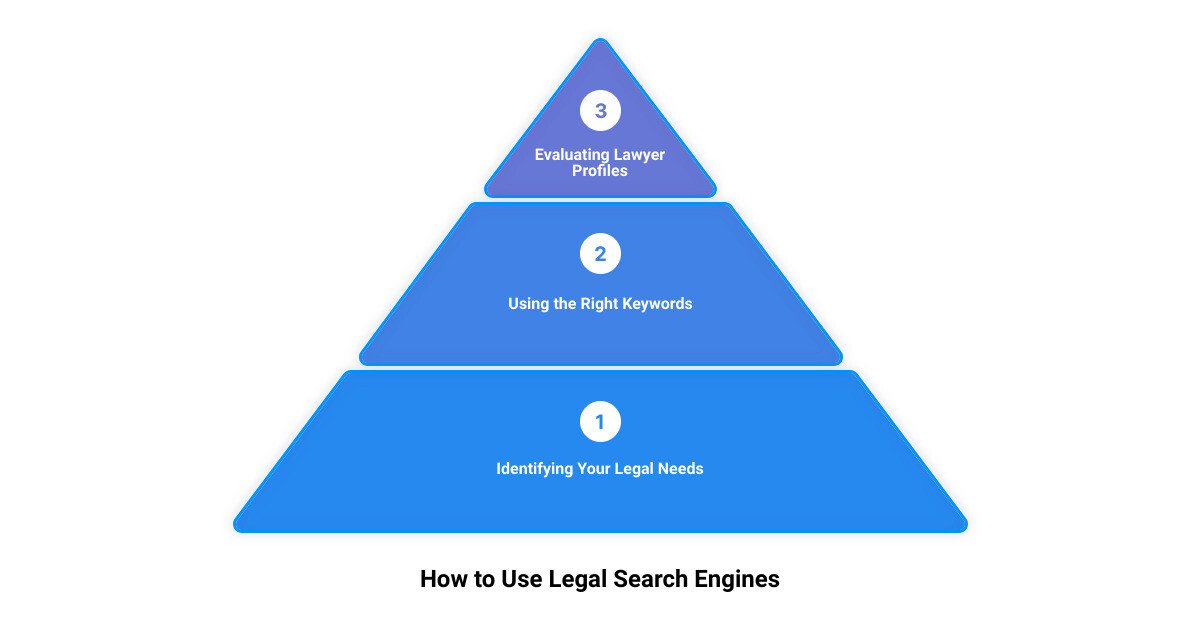 How to Effectively Use Legal Search Engines: A Step-by-Step Guide
Navigating the world of legal search engines might seem daunting at first. But with a clear roadmap, you can make the most out of these platforms. Here's a step-by-step guide to effectively using legal search engines, from identifying your legal needs to initiating the crucial first contact with a lawyer.
Identifying Your Legal Needs
Identifying your legal needs is the first and arguably the most critical step. Whether it's personal injury, family law, or business contracts, having a clear understanding of your legal issue can help you navigate the search engine more effectively. Considerations such as the severity of the issue, the need for immediate assistance, and your budget play a crucial role in determining the type of legal aid you need.
Using the Right Keywords
The secret to a successful search lies in using the right keywords. Start with broad areas related to your issue and then narrow it down using online keyword generators. Consider the search engine volume, the level of competition for each search term, and your unique situation. For instance, if you're dealing with a personal injury case, keywords like "personal injury lawyer", "accident attorney", or "injury law firm" can help you find the right legal aid.
Evaluating Lawyer Profiles
Once you've identified potential lawyers or law firms, the next step is to evaluate their profiles. Look for factors such as their response and communication, trustworthiness, compatibility, professional experience, and community service. Use platforms like Avvo, Lawyers.com, and Martindale-Hubbell, which provide comprehensive lawyer profiles and reviews.
Contacting Lawyers for Consultation
The final step is to initiate contact with the lawyer or law firm. Most platforms allow direct contact with the lawyer, making it easier to discuss your case. During the consultation, assess if the lawyer understands your needs, offers straightforward advice, and if you feel comfortable working with them.
Understanding how to effectively use legal search engines can revolutionize your legal aid experience and make the process of finding the right lawyer less daunting. The next section will delve into the role of legal marketing in enhancing online presence and how ENX2 Legal Marketing is making a difference.
The Role of Legal Marketing in Enhancing Online Presence: Insights from ENX2 Legal Marketing
In the interconnected world we live in, the legal landscape has been transformed by the digital revolution. An online presence is no longer just a luxury, but a necessity for law firms. With this in mind, let's delve into the vital role of legal marketing and how ENX2 Legal Marketing is revolutionizing the industry.
The Importance of SEO in Legal Marketing
Search engine optimization (SEO) is a crucial tool in the digital marketing arsenal. Given that over 90% of online experiences begin with a search engine, SEO is key to ensuring your law firm is found by potential clients. It involves optimizing your website and content to rank higher in search engine results, thereby increasing visibility and driving more traffic to your site.
For legal professionals, SEO can be particularly beneficial. Not only does it help boost your online presence, but it also enables you to reach your target audience more effectively. By using keywords relevant to your practice area and location, you can attract people who are actively seeking the legal services you offer. That's where ENX2 comes in.
How ENX2 Legal Marketing = Legal Aid
ENX2 Legal Marketing is not your average digital marketing agency. What sets it apart is its specialization in legal marketing, offering bespoke solutions tailored to the unique needs of law firms.
ENX2 employs a range of strategies, from content marketing to search engine optimization and PPC advertising campaigns, to boost your digital presence and improve ROI. Its services are designed to create brand awareness for law firms across the United States, helping to attract and retain clients.
Moreover, ENX2 recognizes the importance of staying ahead of the curve. The agency understands that the future of legal marketing lies in the digital realm. Hence, it encourages law firms to embrace technological advancements such as automation tools, artificial intelligence, and data analytics, which can streamline processes and provide valuable insights for informed decision-making.
In essence, ENX2 Legal Marketing is revolutionizing legal aid by providing top-notch digital marketing services that not only boost your online presence but also enhance the client experience. By harnessing the power of SEO and digital marketing strategies, ENX2 is helping law firms to thrive in the digital age, positioning them as industry leaders and making legal services more accessible to those who need them.
In the next section, we'll look at what the future holds for legal aid and search engines.
The Future of Legal Aid and Search Engines
In the ever-evolving digital landscape, the future of legal aid and search engines is promising. It's becoming increasingly clear that the integration of technology is not just a trend, but an indispensable part of the legal industry. The rise of mobile marketing, the advent of voice search, and the continued dominance of digital marketing channels underline the rapid digital transformation of the legal sector.
What does this mean for legal aid and search engines? It means that these tools will become even more sophisticated, efficient, and user-friendly. Artificial Intelligence (AI) and automation are set to play a significant role in this evolution. We're already seeing the implementation of AI chatbots on law firms' websites, helping to cater to the needs of new clients by gathering relevant information and directing them to helpful pages. This trend is set to continue, making the process of finding and engaging with legal aid more streamlined and less intimidating for users.
Yet, as technology advances, the human element remains critical. Personalization and targeted marketing strategies will continue to shape the future of legal aid and search engines. Understanding client preferences and delivering customized marketing messages to target specific audiences will be at the forefront of successful legal marketing strategies.
Video marketing and storytelling, too, are expected to gain more traction. Sharing success stories, client testimonials, and explainer videos will not only enhance the user experience but also build trust and credibility.
This future is not far off. At ENX2 Legal Marketing, we're already harnessing these trends to revolutionize legal aid. Our innovative approach to SEO and digital marketing is helping law firms to connect with clients in a more meaningful and efficient way.
As we look to the future, one thing is clear: the era of traditional legal directories is phasing out. In its place, a new generation of legal search engines is rising – smart, sophisticated, and designed to meet the evolving needs of users. Legal aid is no longer about merely connecting lawyers and clients; it's about creating a seamless, personalized, and empowering experience for users seeking legal help. And at the heart of this transformation is the innovative use of technology, powered by companies like ENX2 Legal Marketing.